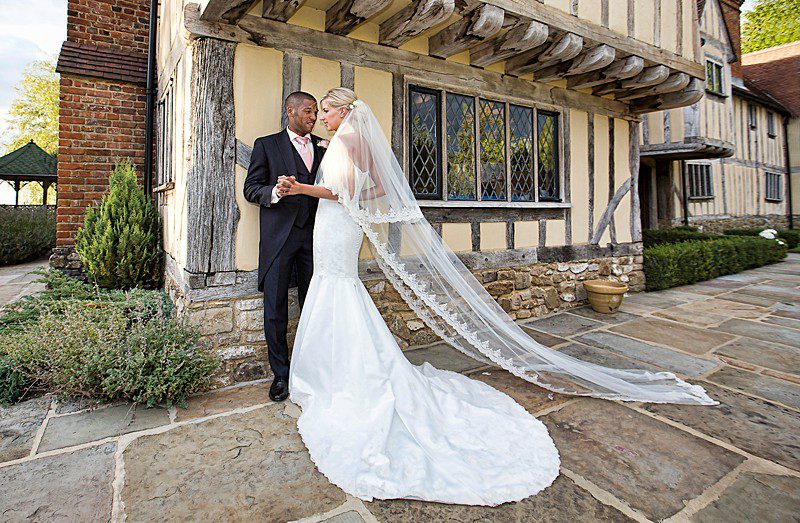 Lauren's wedding dress was made from matt satin and hand embellished with delicate lace patterns
Wedding pictures by Bumble and Brown
The dress has a very fitted, princess line bodice, lightly boned and fastening with real buttons and loops at the back. The sweet heart neckline is complimented by a ballet-pinch detail creating a little texture over the bust. The skirt flares from mid thigh into a fishtail shape. At the back the train is made from over lapping 'petal' panels inspired by Lauren's love of Kate Middleton's wedding dress. This was also the inspiration for the lavish quantities of hand lace embellishment all over the bodice, cascading over the train and edging the skirt all round
I also created a matching veil for Lauren, two tiers of ivory tulle with a cotton lace edging
Detail of the join between bodice and skirt showing the pretty scalloped lace edge used to soften the line. Lauren's veil was also edged all round with matching lace edging
Original design sketch:?Lauren thought, at first, she would like off the shoulder straps, but at the toile stage (practice run) these were removed.
Lauren's dress fastened with real buttons and loops, but a hidden inner corset gave extra structure and support.
Lauren with her five very beautiful bridesmaids, who also all had dresses made by me.
Lauren's veil was two tier, the shorter tier is called a blusher and designed to hang over your face as you walk up the aisle, but Lauren, like many brides opted to simply wear it down the back. It was all edged in scalloped lace to match the trim on her dress hem.
A wrist loop is sewn inside the train of every dress I make, to make carrying the train outside much easier.

The bride with her sister, also wearing a Felicity Westmacott creation.
Photoshoot
After her wedding Lauren booked a 'treasure the dress' photo-shoot and came back with this (and other) wonderful fashion-spread style images. Similar shoots can be booked via The Image Cella .Packages start at ?100
Making Lauren's Dress
Pictures from the toile fitting (practice run). The oval framed picture in the middle shows the originally planned off the shoulder neckline, rejected after this practice in favour of a more classic strapless look.
A picture from at intermediate fitting. Lauren in a partially sewn dress, the hem is pinned up and ready to be finished.
The hand appliqu? of lace took 110 hours altogether. The lace was bought as fabric with floral motifs spread across a net ground. This was cut to shape over the dress panels and then every floral motif was delicately hand sewn down before carefully cutting away the 'net' between. Lauren wanted it to look as though the lace pattern was part of the satin fabric. This was the same technique used to apply lace appliqu? to the 'Royal' wedding dress in 2011
The appliqu? finished on the front dress panel, ready to be sewn into a dress!
Detail of one hand sewn lace motif
Detail of the button and loop closure at the back of the dress.
The train was also appliqu?d all over with lace motifs, and edged with matching cotton lace edging.
Hidden inner lace up back for support and shaping.
The finished dress on the stand showing the petalled train and two tier veil.
A hidden 'something blue' under the train, sewn next to the wrist loop.