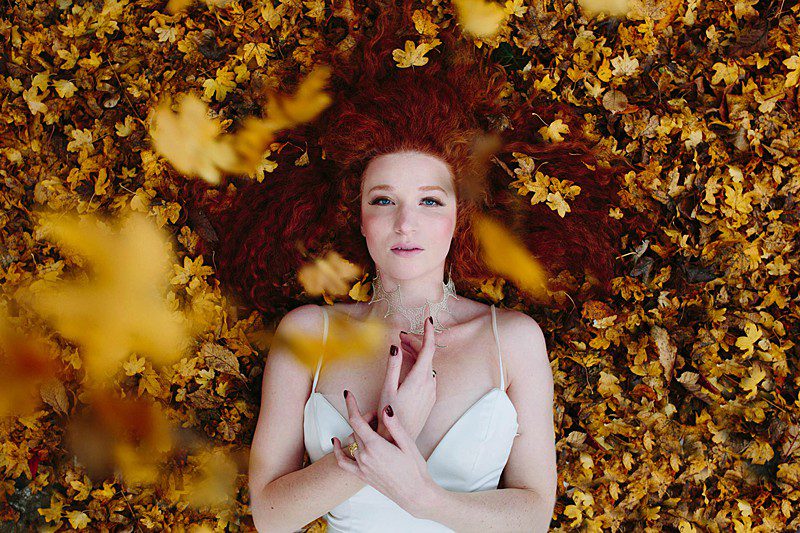 From time to time I collaborate with other wedding professionals on styled wedding photoshoots. This one took place in November 2016 in leafy Surrey with the theme "Frost on the Leaves". We wanted to explore the underrated beauty of the late English Autumn, a magical time of coloured leaves and silver frost. You can see photos of the making process and behind the scenes pictures from the shoot in my blog entries about this shoot.
Photography:JessicaJillPartridge,
Dresses made & designed by Felicity Westmacott
Styling by Jessica of www.foxandpartridge.com
Models: Katja Cemic, Keely Simeoni and Isabella Crighton
Hair styling by Very Bettie
Make up by www.charlottemuapro.com,
Bespoke Shoes by Marsha Hall
Jewellery by Vicky Forrester
Veil and headpieces by Jen Levet
Floristry by Michelle Knibbs of Muscari Whites
Garden wreath by The Girl who Gardens
I designed three dresses for this shoot, a white and silver dress layered that could be worn in three different ways. Lining only (shown here), both layers, or for the daring, the lace layer alone! I also created a dip-dye dress that soaks up the colours of autumn in the hem and a flower-girl dress to compliment them both, in rose-gold silk lame and georgette.
Romantic Ivory shoes with lace and heart shape peep-toe, by www.marshahall.com
Bespoke jewellery by www.vicky-forrester.com
Styling by Jessica Jill Partridge of www.foxandpartridge.com
Flowers by Muscari Whites
Garden Wreath by The Girl who Gardens
Flower girl dress in layered silk georgette in shades of rose-gold with beaded lace detail and long sleeves.
Silk Lily band headdress by Jen Levet
Hair garland by Muscari Whites
Make-up by www.charlottemuapro.com
Model Keely Simeoni wears 'Phoenix' a silk dupion and tulle dress dip-dyed with the colours of autumn as if the season is creeping up her skirt. Creating this dress, took 7 hours on the colours alone, see more detail of how this was done in my blog entry on the shoot.
Rainbow rose bouquet by Muscari Whites
Hair by Alex Sadler of Very Bettie
Silk Lily band headdress by Jen Levet
Autumn red shoe-boots by www.marshahall.com
Here is the silver lace dress, worn with all it's layers. The main dress is beaded antique-silver lace and the lower skirt is silk chiffon.
Hair styling by Very Bettie
Make-up by www.charlottemuapro.com
Lace edged veil by Jen Levet
And here is the lace dress, for the daring only, worn without the lining!
Lastly some images of the dip-dye dress with a little Bowie-homage: daring make-up and fairytale styling.
Hair styling by Very Bettie
Make-up by www.charlottemuapro.com
The Leaf Pendant is an ideal choice for an Autumn wedding. The green stone is a piece of Moldavite. The rippled texture that gives the leafy appearance is entirely natural. It's a type of tectonic glass, created in an explosion of energy over 14 million years ago, when an asteroid collided into Earth. This notion of 'heaven-and-earth' makes it a perfect symbol for the magic that marriage inspires.