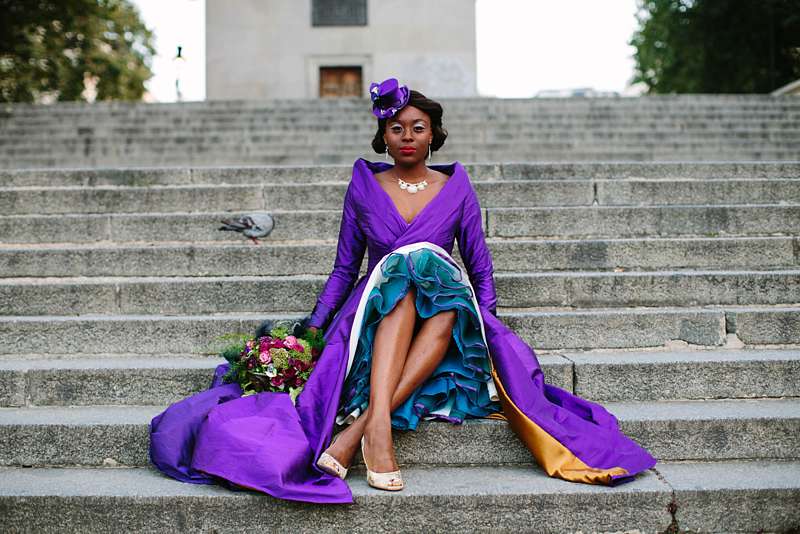 August 2016
London, shot on The Mall, Horse Guards Parade and Brick Lane
Jess (photographer) and I (dress design) know each other from way back, we met at an acting club! When we bumped into each other quite randomly at a soft play centre, each with toddlers in tow, we agreed to work together on something before the summer was out. We both wanted to do something a bit edgy, not your usual "woodland wedding, soft pastels" shoot, which are done to death these days! I remembered I had some gorgeous purple silk on a roll back at the studio, half an hour on pinterest and some dress ideas followed and we had our theme!
Below: pinterest mood-board for the shoot
Original design sketches for the dress and coat.
We chose the colours, Cadbury purple, rich ivory and touches of gold to bring out the glamour in the theme and compliment our model's beautiful skin. If we'd had the time to go the 'whole hog' with table settings and stationary too, be sure they'd have been a lot of peacock feathers!
Above and below: the same moment from two different angles, through the lens of our official photographer and from my own camera! I think I had better stick to making dresses!
Creating a dress design for a City Burlesque theme was fabulous fun. The dress needed to have a vintage, showgirl feel and be really sexy but still realistic as a bridal dress, not many people actually get married in a leotard and feathers! The wiggle skirt with a boned bodice hit all these marks showing off our lovely model, Vanessa's curves and cinching her waist. I added a teal net petticoat that would show when the high/low hem moved and delicate gold lace detail with Swarovski crystals for showgirl glamour!
The coat is made in striking Cadbury purple silk dupion with a vintage 1950's off the shoulder collar neckline. Demure, elegant and still very sexy. The sweeping skirt and train mean than even with a short dress this bride gets to SWEEP into the ceremony and swoosh up the aisle. It also means she can do 'the big reveal' burlesque style without actually taking off her dress!
We chose our locations to showcase both sides of our beloved London Town, the city of our hearts! We started the day on The Mall, near Buckingham palace at 5.30am to avoid too much many people being around and got some greats shots just across the road at Horse Guards Parade too. The morning light was so beautiful and meant Jess could capture some really atmospheric images.
Some of us were more nervous than others about the guerilla style of our shoot in London. But we did our research first and confirmed you really don't need any permissions to take pictures on the street, so long as you don't create an obstruction and have permission to publish from everyone shown in the pictures.
Michelle of www.muscariwhites.co.uk had created the most amazing bouquet for us with orchids, feathers and trailing colour. She also surprised us with an extra creation, one of her amazing paper corsages. She christened this style the 'burlesque' corsage in our honour and we loved the way it could be worn so many different ways, with the larger part placed as a traditional corsage and the 'echo' over your shoulder, or in your hair! It's amazing how these details can bring a theme to life and take it beyond what we'd originally planned.
Jen made the mini top-hat and elegant calla-lilly headdress using fabric to match the dress.
Jen says "This photoshoot was unusual for me because it allowed me to be a bit naughty and creative making shapes when making the headpieces; for the purple hat I didn't just want to do a traditional straight mini top hat, I wanted to make one more unique with curves. So the brim is actually one of my mini button hats I have turned upside down and cut & wired & the crown of the hat I blocked or made using a glass candle holder that had the right curvy shape, so when put together the shapes are a bit more sweeping & striking.
And Marsha's bespoke shoes (she sent us three pairs as they all seemed 'right'!) completed the picture. All the details matter and without the perfect accessories no bride can feel complete!
Marsha says "The gold peep toes fit the burlesque theme beautifully. With a hint of gold for decadence and glimpse of flesh from the peep toe. For the traditional something blue I created a beautiful pair of heels with contrasting textures of patent and suede with gold straps."
After a break for coffee and breakfast (with poor Vanessa in full bridal get-up in a local Costa) we headed back out. A change of hair and makeup, by the talented Charlotte, perfectly suited the new location, Brick Lane, with it's graffiti backdrops and cobbled streets. A random shopping trolley we found made carting all our gear and the coat (when not being worn) much easier, though we had to abandon it again eventually. We finished just before midday with cake in a cafe and winding down.
Some of us shared a taxi back to the flat where Vanessa had got ready, and on the way we were already firing out ideas for our next collaborative shoot (Titian Red anyone?), watch this space!
Some behind the scene shots from the shoot day:
The other side of the camera is less glamorous, here is me with the trolley of paraphernalia on brick lane!
Credits:
Photography by Jess Partridge www.jessicajillphotography.com
Dress design and creation by Felicity Westmacott www.felicitywestmacott.co.uk,
Make-up by Charlotte Light 
Flowers by Michelle Knibbs www.muscariwhites.co.uk
Model Vanessa Asare
Bespoke shoes by Marsha Hall www.marshahall.com
Hair accessories by Jen Levet www.jenniferlevethats.co.uk