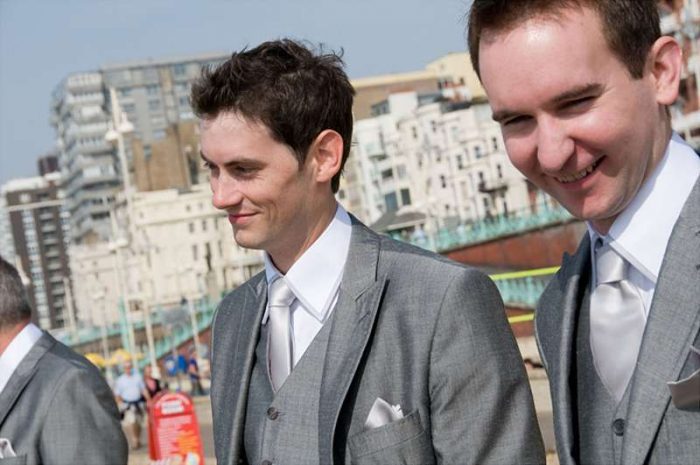 Alice commissioned custom silver silk ties and matching hankies for her groom, his best man and ushers. I made the ties in a modern style, from the same silver silk satin as the bridesmaids sashes. Handkerchiefs to match completed the ensemble.
Making Bespoke Ties
Ties are made 'cut on the bias' which means they are cut as diagonal strips out of the fabric, not straight across. I sewed the back seam by hand so the stitching would be invisible. Then I added a 'tie-loop' for the narrow tongue to be tucked into because having the back of the tie poke out is never pretty! I decided to line the silver silk ties with white satin. Silk ties and matching hankies make a lovely present for the groomsmen as well as a way to tie the whole bridal party together visually.
I finished the groom's tie with three tiny, hidden Swarovski crystals, a special touch to match the glamour of his bride's dress. I sewed the hankies with roll hem edges for a neat finish.
Other garments to go with silver silk ties and hankies
Alice had also ordered her own bespoke wedding dress with me. She also commissioned two purple silk bridesmaids dresses and three flowergirl dresses. Everything had silver diamante sparkle and silver silk satin as a feature. The repetition of the silver silk satin through out the bridal party was a pretty motif that brought everything together. The other colours were white and Cadbury purple.
To order your own bespoke ties or hankies as part of a larger order to go with items from another outlet just get in touch.
Official Wedding pictures by www.laurencephotography.com