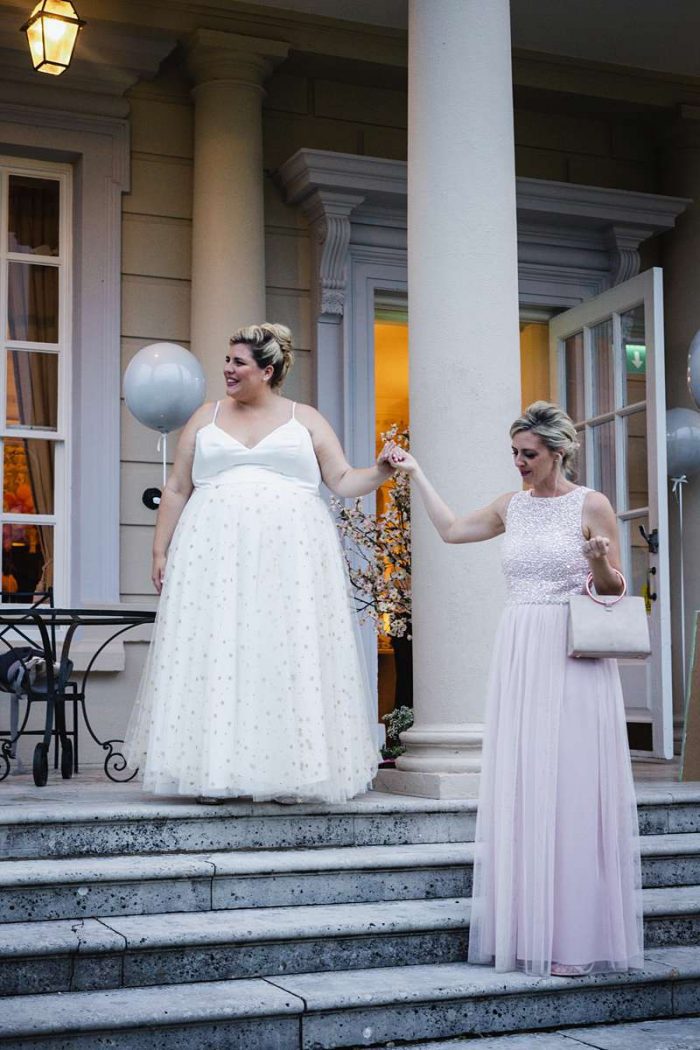 Melissa had already found her wedding dress so came to me to have a reception dress made for later in the day. I designed her a plus size reception dress with stars on the tulle skirt
Melissa wanted a reception dress she could dance in and have fun. I designed a v-neck bodice with narrow straps. Curvy brides need a little support so I added light boning, just enough to make a difference but keep the relaxed vibe and not be stiff or restrictive. I sourced light ivory duchess satin for the bodice and swishy soft tulle for the layers of skirt. Melissa found the beautiful gold star tulle that was used for the top layer of the full circle skirt. I inserted a simple concealed zip for the back closure.
Kind words from Melissa
Picking a wedding dress was something I had always dreaded. I found the day dress of my dreams and then was full of dread again at how i would enjoy the party. You solved that for me and made me feel the most glamorous I have ever felt in my life. I got changed after dinner with all my maids which was so much fun and then we did a "reveal" with Jim, it was amazing! I thought everyone would roll their eyes at me being a diva with two dresses but everyone was so lovely and I literally swished everywhere in my dress. You were a huge part of the best day of my life and I am eternally grateful xxxxxx
Love My Dress Blog Feature
Online wedding blogs are a really great way to find inspiration for your wedding day. I feel very proud when a wedding I have worked for gets featured. A little bit after the her wedding day Melissa sent me this message
Well I decided to be brave and message them because I felt so amazing last weekend and I want all plus size girls to know they can feel the same and so just told them my story and they had a look at my insta and then said they would love to feature me when the official pics come through.. so obviously I can then credit all of you! If I had to pick between dresses then obviously I will choose Felicity's (albeit I loved my pink dress) but the Stars is a true representation of local talent and craftsmanship and girl power. WOOOOP! This wedding keeps on giving xxxxx
Head over to the blog to see Melissa and James wedding feature over on 'Love My Dress'
Melissa's gorgeous wedding day
Designing well for a curvy bride is important to me, everyone deserves to feel their best on their wedding day. Having a bespoke wedding dress made means anyone can feel sure their dress will fit perfectly and be everything they dreamed of. Laura of devinebride.co.uk helped Melissa plan and style her wedding and when Melissa said she wanted a different dress for the reception Laura put us in touch right away. It's really lovely being recommended by previous clients and by wedding industry colleagues.
Melissa's wedding was planned with impeccable taste and so much fun! Melissa had cinema themed table centres, balloons on the venue's columns and a doughnut tower wedding cake. The blush pink wedding dress she wore for the first part of the day was a customised off the rack dress from Cambridge Bridal Studio.
A plus size bride dances in her reception dress
Making the plus size reception dress for a curvy bride
Fitting pictures from the making process. I always make a custom pattern for each client. Melissa came to my studio for a series of fittings including a 'toile' or practice run in cheap fabrics.
If you are looking for a reception dress, plus size or any size do get in touch to discuss your design ideas.
Official photography by www.samuelgeorge.org/