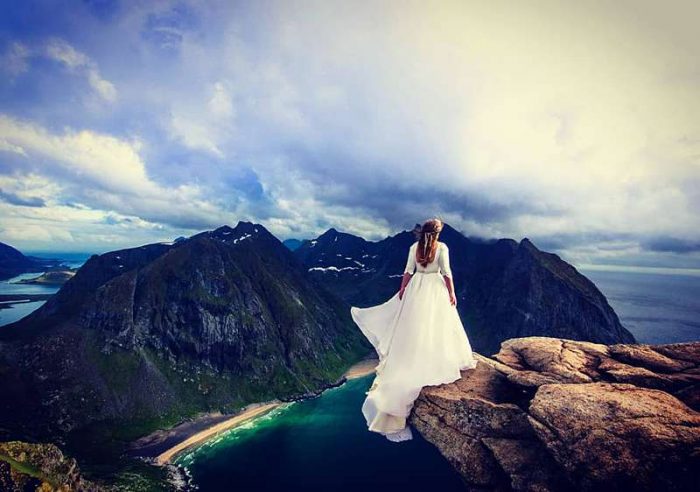 Destination Wedding? 
Regardless of the distance, travelling with your wedding dress to a different location requires careful planning and extra TLC with your luggage. The dress must remain in tiptop shape before and after you arrive at your destination. 
Luckily, there are several options and tips that you can try to ensure your beautiful dress does not incur any damage or get lost while on the road.
Before we begin, it is important to note that the tips in this blog are general, different countries have varying protocols to follow and you need to check what is relevant for your destination. You wouldn't want to miss anything on your wedding itinerary by getting held up at the airport for an extended period.
Now, on to the tips for travelling with our wedding dress!
Wedding Insurance
Before booking your flight or finalising your trip, consult with your wedding insurance provider. Verify whether the insurance also covers transporting the dress. Also, discuss if the coverage will have a significant effect on different travel and accommodation policies.
Doing so helps you avoid any possible penalties should you unintentionally violate any of the jurisdictions in your target location.
Coordinate with your airline
An example of policies you need to check with your airline is whether they allow unfolded dresses to be hung in the cabin. If they don't, then you will have to make do with packing your wedding dress meticulously and get ready in case the airport holds your luggage. This usually happens if your dress is too big to fit perfectly in hand luggage or carry-on.
Pick a travel-friendly dress size and type.
This tip is more in favor of those who prefer a minimalist design for their dress. 
Yes, wearing a stunning cinderella ball gown at your wedding is like a fairy tale dream come true. Unfortunately, it might just prove a nightmare if you factor in the mode of transportation you'll be using and the duration of the journey. Travelling with your wedding dress is much easier if it packs up small!
It would be more convenient to pick a dress that's easier to pack in your luggage. A breathable cotton beach wedding dress, lace sheet dress, and any short wedding dress should fit perfectly into your luggage.
Ask help from your dressmaker.
Not a fan of simple and short? 
Try asking assistance from your dressmaker or the shop where you purchased your dress. Puffy gowns are quite tricky to fold and keep from creasing. Ask the dress shop or your dressmaker to help you pack the dress to avoid as much creasing as possible. Your dressmaker knows just the right tricks to fold and pack your full skirted wedding dress without compromising its quality.
Consider the fabric used in your dress.
If you don't want to worry about having to iron your dress or smoothen any creases after travelling with your wedding dress try fabrics known to crease the least. Examples of these fabrics include stretchy textiles, knits, nylon, polyester, cashmere, and most synthetic material. Lace also disguises any crushed areas.
If your prefer natural fibres be aware they do crease, there is no avoiding it. If you choose a silk or cotton dress you should plan to have your dress steamed on arrival. Book with a local wedding dress shop, dry cleaner or ask if you accommodation provides this service. You can also check recent wedding dress trends for inspiration.
Plastic bags may come in handy.
Putting your wedding gown in a sealable plastic bag helps keep it in place inside your luggage. It also adds a protective layer to protect it from spills, dampness, and stains. You can also use smaller sealable bags to store your precious wedding rings. Then, store the bags in a sturdy box.
If you are packing out the bodice of your dress, use acid-free tissue paper to retain the shape and prevent the boning from being deformed. Packing your dress inside out can prevent any possible marks or moisture reaching the main fabrics but it will increase the chances of creasing.
Use a dress bag.
If the airline allows you to hang your dress in the cabin, keep the dress bag that contains your bridal garment zipped up.
Ship it ahead of time.
UPS and Royal Mail are some couriers that offer insurance for the package or carriage that needs shipping or transporting. Contact the hotel where you will be staying at your destination. Inform them ahead of time that you have posted your wedding dress so they may check and confirm once it arrives.
Remember, if using courier services is your preferred solution, avoid shipping your dress last minute. Otherwise, your gown may not make it in time for your wedding!
Additional tips post-traveling:
Take the dress outside of the box or bag the moment you check into your hotel room. Hang the dress and air it out to smoothen accumulated wrinkles. If your dress is longer than the dress bag, place a towel on the floor to add a safety net for your dress if it hangs outside the dress bag. Are you worried that your husband might see your dress before your special day? Turn the side with the dress bag's zip to the wall to conceal the dress from public view.
Check the location for any nearby dry cleaning service or wedding dress shop. You might need quick retouches on your dress the moment you unpack it. You can also ask the hotel staff for your venue if they can steam your wedding dress or do errands to purchase and deliver a portable steamer to your room.
To help creases drop out, hang your dress in the bathroom with the door closed and the shower on full water pressure to fill the room with steam. Just make sure no water splashes directly onto the dress.
Have the best wedding day, worry free!
Even after all this advice my main message is that perfection is not a necessity for a happy wedding day. With all of the stress that comes with preparing for your wedding, travelling with your wedding dress is the last thing you want to worry about. A crease or two your wedding dress is not going to ruin your wedding. Famously Princess Diana exited her wedding carriage with creases in her skirt, and if a Princess cannot avoid this risk perhaps we should all 'Let it Go!'