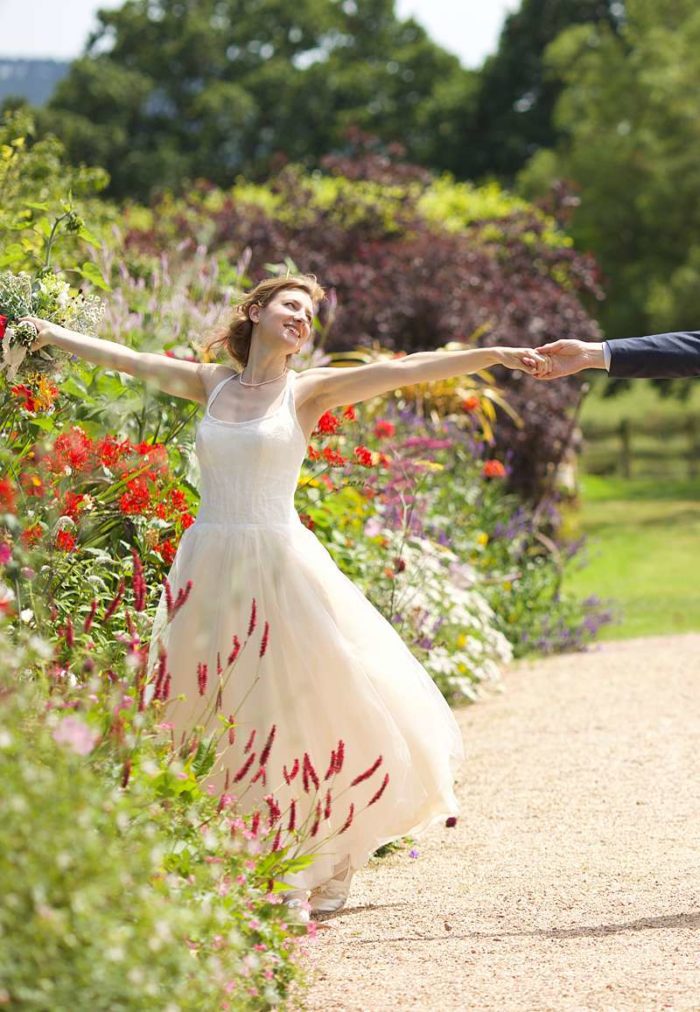 Janna's relaxed wedding dress was made to compliment her (mostly) vegan celebration that took place in a Devon on a perfect summer day. I made her a dress in layered pale pink tulle, delicate chantilly lace and vintage silk satin jacquard. The design was as relaxed and summery as the day Janna had planned.
Wedding Dress Design for a vegan bride
I made Janna's dress with a lightly boned bodice and full circle skirt. I layered soft tulle in delicate shades of 'shell pink', 'honey' and 'pale ivory' to create a subtle warmth without overt saturation. The neckline was a softly rounded square with straps extending up and crossing over at the back. Janna knew she wanted a low and open back from the outset. We were both excited by my suggestion of extending the shoulder straps so they would 'become the lace-up ribbons that fastened her dress. A lace up back with eyelets and no modesty panel made a pretty design feature.
Another unusual design idea must be credited entirely to Janna herself. I would normally carefully cut and sew lace layered over a fitted bodice to hide the joins. But this time I did not cut away the extra fabric, instead I spread the extra evenly around her waist and fixed it into tiny waves for texture. I softened the join of skirt and bodice using the pretty scalloped edge of the lace for a couture finish.
Detail of the delicate lace bodice, layered over tulle and silk with tucks and scallop edge.
Vintage Jacquard Silk
Joseph-Marie Jacquard invented the jacquard loom technology in 1804. Jacquard fabric features a pattern woven into the surface instead of being printed or embroidered on top of finished fabric. The pattern often shows in reverse on the back of the fabric. In this case we had pretty floral motifs, shiny on a matt background on one side and the other way round underneath. We used it shiny side out under the tulle and lace which meant the sheen of the fabric glinted through the layers as Janna moved. The neckline and straps were all bound in the matt side of the vintage satin-jacquard.
Designing a dress for a friend
I was so excited to have Janna ask me to make her dress. I often make friends with my clients over the course of the making process but making a dress for a family member or friend is even more special. Janna was engaged to my husband's cousin, Seb, so her marriage elevated our relationship from friendship to family. Seb and Janna are both architects, morally motivated (mostly) vegans and lovely people.
Like many of my clients Janna had a clear vision of how she wanted her dress to look. I am really good at making dreams into real dresses, be they vague or clear ideas.
Janna's training as an architect meant she was more than usually interested in, and able to understand the technical aspects of making her dress. Some clients are more able to visualise than others and with Janna I knew that the construction of a 3D piece of 'soft engineering' would be easy to share and explain. It was a pleasure to be able to share more of my technical knowledge with a bride than usual, as part of her collaborative design process.
The story of a vegan wedding dress
Brides planning a wedding dress for a vegan wedding may arrive at their design consultation with a variety of concerns. For some, animal welfare is the main motivator, so avoiding silk (which kills silkworms) is a must. Silk farms produce vegan Peace-silk without killing any silk moths but it is much more expensive. And the choice of colour and weave in peace-silk is much more limited. For other brides, considering the environmental impact of man-made fibres that don't break down is more important.
Knowing about Janna's environmental outlook meant I was able to make suggestions and propose design ideas inline with her concerns. Janna and I discussed the possibilities of using second hand fabrics for her dress. Using older materials keeps more waste out of landfill and the sea as well as not fuelling the production of new materials.
Vintage satin-jacquard
Janna was given some incredibly beautiful satin-jacquard. Janna's Grandfather had brought the fabric back from the far east in the 1980's. He had bought it as a present for his daughter, Janna's mother. His plan was that she would use it to make her wedding dress. But in his absence Janna's young mother had already found her dress so the beautiful fabric sat unused for 35 years. I knew it was very special to be able to include this fabric in our design. And it perfectly fitted with Janna's desire to avoid buying new fabrics.
I also found a large off-cut piece of intricate Chantilly lace in my stash. When I showed it to Janna at her design consultation she loved both the lace itself and it's off-cut source. Though both the satin and lace were technically still new and unused, they were not bought new for Janna's dress. So incorporating them in her vegan wedding dress design was a good compromise between her ideals and practicality.
Janna's (mostly) Vegan Wedding Celebration
Janna's wedding day was a celebration not just of her marriage to Seb but also of their joyful outlook on life. They used a local florist and English gown flowers, avoiding the airmiles usually associated with imported blooms. The mostly vegan wedding feast was all cooked and brought to the wedding by the guests. Janna was considerate to many of her non-vegan guests, by providing some vegetarian dishes including cheese and eggs.
Other DIY details included home made bunting and colour coded napkins for each guest sewn by the bride's mother. The wedding party arrived in style on pedal powered transport. The grooms mother was responsible for her son's snazzy floral waistcoat and the vegan cake decorated with fresh flowers.
Page Boy and Flower Girl
It was also an honour to have my two elder children be invited to be flowergirl and page boy for Janna. I made blue tulle skirts for the two little flower girls. The page boys wore matching bespoke sashes with button fastening.
Official Photographer: Lasting Impressions by Lucy
Venue: Cadhay House
Flowers: Natural Branscombe

Making Janna's Dress
Pictures from Janna's fittings
If you would like to discuss ideas for your own wedding dress please do get in touch