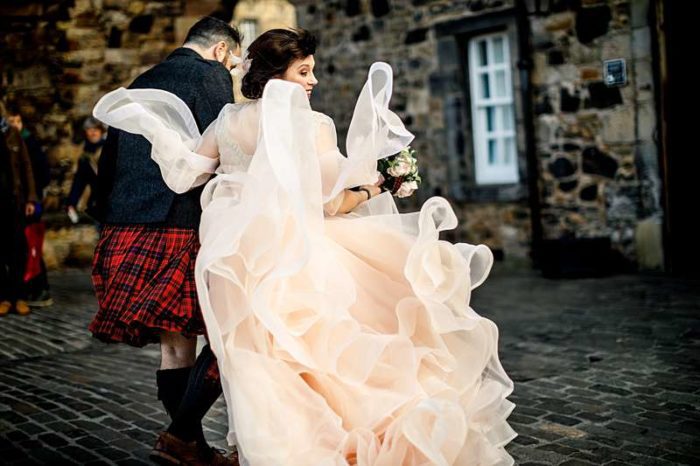 Richelle wanted a theatrical dress with interchangeable separates for her two part wedding in Scotland. I designed her a pink and silver waterfall skirt wedding dress in organza, silk and lace. Richelle found me by recommendation from a previous bride, the nicest way to know you've done a good job!
Official photography by linaandtom
A theatrical wedding dress for a dramatic bride
Richelle had an epic, three part wedding. So when I met her I knew I needed to design a dress for three venues, each with very different vibes. The ceremony took place in Edinburgh castle with a traditional religious service with a reception afterwards at The Museum of Scotland. And a few weeks later Richelle and her new husband held another party for London friends in a theatre space.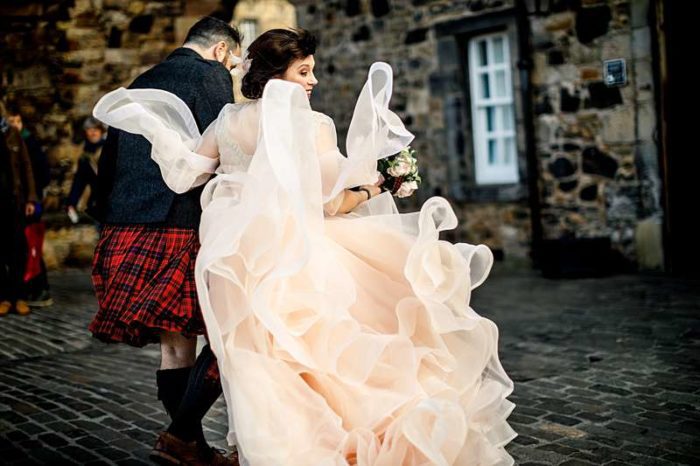 Each layer of Richelle's waterfall skirt was made from a whole circle or oval of blush organza. I used more than 30 metres of horsehair braid to trim the hem edges making them flute and fall gracefully.
Original design for Wedding Dress Separates
I designed Richelle's waterfall skirt wedding dress as a four piece mix and match set of separates. The dramatic long skirt with train was made with 9 organza waterfalls each edged with horsehair braid (sometimes called crin, as in crinoline) to give them definition and stiffness. Her boned bodice had a sweetheart neckline with the silver lace over layer crossing over to subtle ruching to one side. the lace extended above the main bodice into an off the shoulder neckline with real buttons and loops to close at the back, concealing a zip beneath.
I offered Richelle three ideas for her sleeves/cover-up. The first was a simple bolero and the middle one is a waterfall cape, longer at the back than the front. But Richelle loved the idea on the right with flowing waterfall sleeves that buttons closed at the front. The sleeves hint at a medieval style but look totally modern and romantic in the blush coloured organza with horsehair braid edging. It fastened at her throat with a sweet pink Swarovski pearl for a button.
The last element of Richelle's ensemble was a simple 1950's style skirt in blush with silver net petticoat. This was perfect to wear at her party in London so she could dance the night away!
Blush pink organza and silver lace
Richelle wanted a subtle blush pink colour so we found coordinating organza and silk dupion, complimented by the beaded silver lace for her bodice.
Detail of the bodice fastening with concealed zip with real buttons and loops.
Making Richelle's waterfall skirt wedding dress
Richelle's dress was made over a series of fittings at my studio. It was great getting to know her during the process and comparing our love of theatre. Above are pictures from the first fitting of her 'toile', a practice run in cheap fabrics. I had prepped a single waterfall piece to pin on and give Richelle an idea of the size her final skirt would be. Find out more about the bespoke making process here.
Sewing on the buttons to Richelle's bodice
Richelle's bodice was fully boned and had a hidden corset layer where pulling the laces would cinch in her waist and provide support to her bust.
Can you spot the bride and groom in the beautiful museum of Scotland?
Book a consultation with me to discuss your ideas for a bespoke wedding dress.