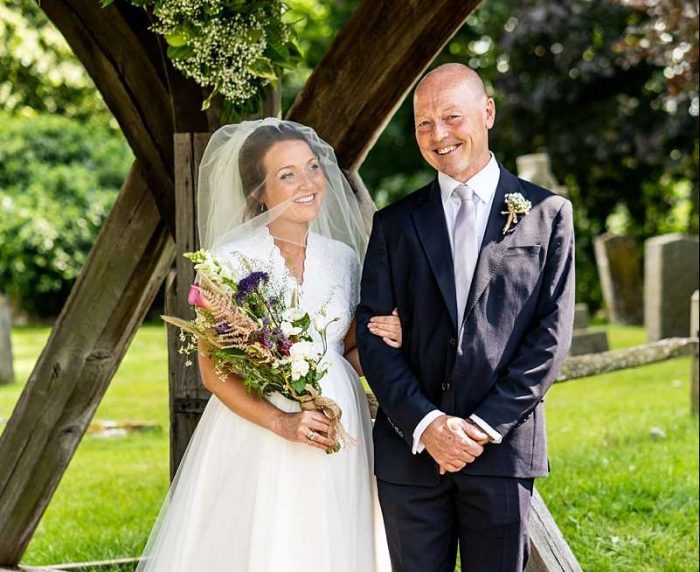 Sophie and I worked to restyle her Grandmother's vintage wedding dress into a relaxed maternity wedding dress for a modern boho bride.
The original vintage wedding dress
Sophie's wedding dress story is too perfect for words. At her first consultation she brought me the top of her Grandmother's wedding suit. An exquisite creation in quite substantial silk/wool mix fabric, fully lined, with delicate swirling cord appliqu? and hand sewn sequins. It had been bought from a bridal boutique in the late 1940's or early 1950's and is a very beautiful example of bridal fashions of the time.
A two piece suit with matching bodice and tea-length pencil skirt. The suit must originally have been a clean, bright white and it had been kept immaculately. However the materials had aged differently and the bodice now had a mixture of colours in the embellished elements. The main fabric was still white but the cording and sequins had each warmed to a more ivory shade.
The embellishment on the bodice is called 'Cornelli embroidery'. Swirling rattail cord is machine sewn onto the fabric with a special 'cornelli' chain stitch machine. Embroidery is applied individually to the shaped fabric pieces before they are sewn together creating a unique couture garments.
Sophie wanted to use the bodice as part of her own wedding dress but update the look a little. When I restyle a vintage wedding dress I always hope to keep sympathy with the original design and intention. Sophie loved the bodice and did not want to obliterate any of the style details. So we planned to do a minimum of work to the bodice and create a new skirt in soft tulle, a relaxed modern style Sophie loved.
Planning vintage wedding dress restyle and alterations
The bodice was a very tiny size, it had a modern size 6/8 waist and Sophie needed a 10. The original design included a peplum on the bottom of the bodice. We decided to remove this and use the fabric to insert side panels that would match perfectly. Then I designed a soft, flowing, tulle skirt with layered colours to blend in with the white and ivory tones of the bodice. Sophie agreed to the design, booked-in and paid her deposit.
Find out more about my bespoke design and making process here.
See more examples of original vintage and period wedding dresses on my themed pinterest board.
A spanner in the works
Sophie rang me with news a few months before we planned to work on the dress. She was expecting a baby in the Autumn and would be 20+ weeks on her wedding day. This is always wonderful news and Sophie was over the moon to be expecting a baby. But it did mean our design wasn't going to be ideal for her probable body shape. But nothing phases me as a designer and there is always a way to make things work.
At another consultation I reassured Sophie that I had made several maternity wedding dresses before so I knew what we needed to do. I have also had three kids of my own so I know how the body usually changes. I knew to expect at the gestation we would be looking at for Sophie's wedding day. We changed the design by raising the front waistline in a gentle curve. By leaving the back waist at a natural level we would avoid making Sophie look bigger than she was,. It was ideal to show off her still slim frame behind her bump. And we would need to make the skirt integral to the top, as a dress, not as separates.
Making a Maternity Wedding Dress
Working with a growing tummy always means we need to start work closer to the wedding day than we might for other brides. I know roughly what size increase to expect as a pregnancy progresses. But every body is different and weight gain happens for some at different times in the gestation. So with just 6 weeks to Sophie's August wedding day we started work.
I began by unpicking the peplum and side seams to alter the size. It had always needed some adjustment but obviously not we would need to add more than originally planned. At her first fitting we also decided to increase the size of the underbust darts to flatter Sophie's figure. The bodice looked a little shapeless before we pinned the darts in. Lastly, I removed the broken zip and replaced it with a modern concealed one.
I made the skirt from two layers of lining fabric, and three layers of tulle. We carefully chose ivory, pale ivory and white fabrics. Placing them in an order to create a colour than complimented the mixed shades of the original vintage bodice. Mixing shades of tulle in a skirt is a lovely way to add depth of tone to a dress. I sewed the skirt to the bodice along a curved underbust seam to skim across Sophie's maternal figure.
The finished maternity wedding dress
The finished dress was perfect for Sophie's English summer wedding day. I made Sophie's dress comfortable and modern, with no compromises necessary for her maternal figure. She was a blooming English rose in her restyled vintage wedding dress. Not only was Sophie wearing her Grandmother's wedding dress but the next generation was wearing it too, if only in utero. Sophie's wedding dress was special in more ways than can be adequately described in words.
Sophie said: Just a little note to say thank you so much for making my beautiful wedding dress. It really was my absolute dream dress and looked even better than I could have imagined! I can't even tell you how many comments I had on the day and since saying what a perfect job you did.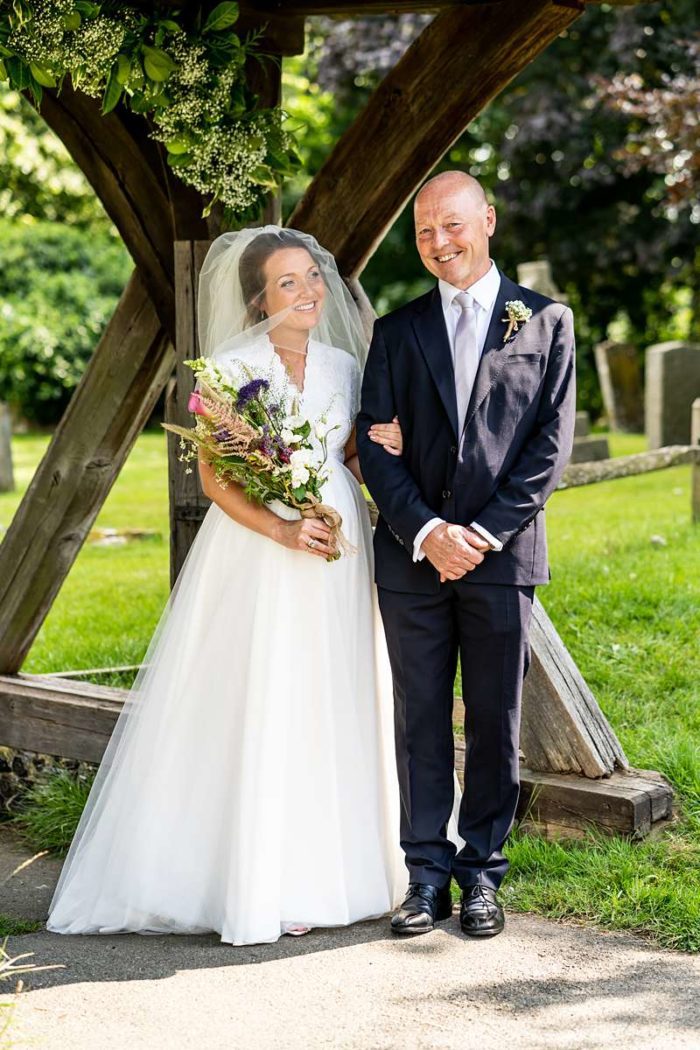 Contact me to talk about your own ideas for a vintage restyle or maternity wedding dress.