Danielle needed my help as a wedding dress designer near London to create her a custom long sleeve bodice that would fit perfectly over her wedding dress. Danielle's wedding dress was beautiful even just 'off the peg' but it needed a little something extra to create a bit of drama on her wedding day.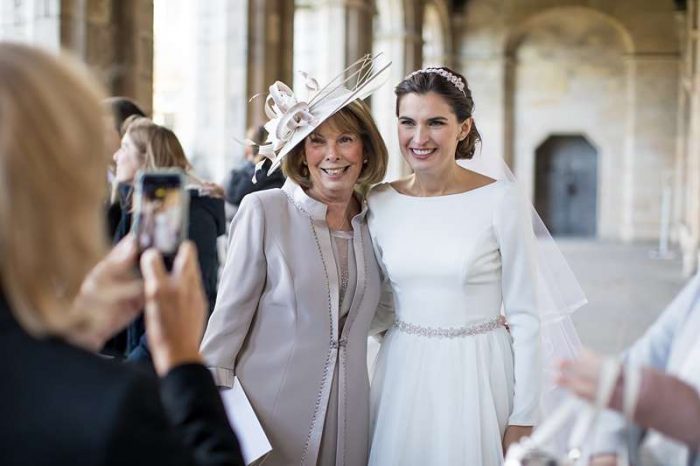 Working with Danielle, I designed a long sleeve wedding top in pale ivory crepe. We carefully matched the fabric in colour and texture to blend perfectly with her wedding dress beneath. The over-bodice has a modest boat neckline at the front which contrasts with the plunging v-neck back. I suggested we add real buttons and loops as a feature fastening. Adding the same fastening to the back and to the sleeve cuffs brings the whole design together.
I had to be very careful to ensure the neckline of the wedding dress beneath worked perfectly with the bodice being put over the top. As an experienced wedding dress designer, checking for this kind of thing is part and parcel of what you pay for with my personal service.
Danielle said "I wanted to thank you SO SO SO much for all of my alterations on my dress. It was absolutely perfect and I had so many comments, mainly from people very confused at to whether I had two dresses!!"
How to create two looks on your wedding day
Danielle wore the top I made for the wedding ceremony but then took it off for the evening party. This kind of 'big reveal' is a fun way to work different looks for the parts of your wedding day. that have very different vibes; an emotionally serious ceremony and a fun filled celebration later on.
Many modern wedding dress designs very revealing than has been common in the past with plunging necklines or flesh revealing lace. As a wedding dress designer I often advise that layering a more modest, bolero or top is a good compromise. However you should only cover up or reveal to please yourself! We should not allow the pressure of expectations from others to influence our choices. I wrote a blog post all about dressing to please yourself. I hope to support brides who like to go against the grain!
It was so lovely to work with Danielle on this commission. Seeing the finished article being worn on a wedding day always give me such a little buzz of pleasure. Being a wedding dress designer in the London area means I get to help brides from all different backgrounds. This dress was worn with a Scottish groom in a kilt! I would describe this style as 'modern traditional' – being simple doesn't stop a design being dramatic!
A little bit extra from a wedding dress designer London
I also undertook the sizing alterations on Danielle's shop bought wedding dress. It gives me immense satisfaction to work with well made things. I love taking something that isn't quite perfect bringing it to bridal standard perfection.
As well as usual sizing changes we added a diamante belt to Danielle's dress. After cutting to length there was just enough of the trim left for me to create a matching head band for Danielle. It wasn't part of her original plan but it's the kind of added extra I pride myself on being able to see the potential for. I no longer often make hair accessories but it was fun to get the tools out again for this occasion!
Pictures from Danielle's fittings.
Images from the final fitting of Danielle's dress and the original design sketch
If you are in need of a wedding dress designer in London please do get in touch. I'd love to help!