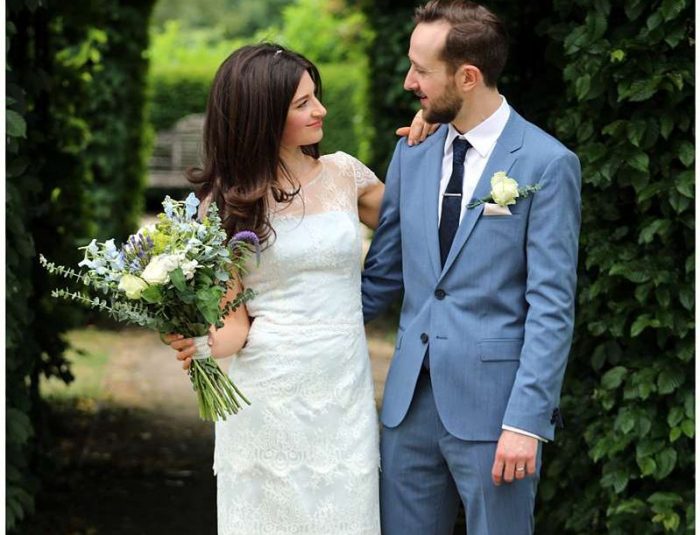 I am a huge fan of wearing a bit of colour for your wedding, so this pale blue cocktail wedding dress hits all the right buttons! The dress has a cute, vintage, 1950's wiggle dress vibe and suited Isabelle perfectly.
Simple and sweet bridal mini-dress with tiered ivory lace skirt. Pale blue silk satin shows through the lace with a lightly boned bodice giving support and shape. The final length for the cocktail wedding dress was mid-knee but the pale blue silk finished above the knee for a glimpse more leg. The lace over dress has a high round neckline and short sleeves. I highlighted the waist with a delicate scalloped lace trim to compliment the edge on the skirt tiers and sleeves. The wedding dress closed with a concealed zip at centre back with a keyhole opening in the lace above and single button closure.
I loved seeing the pictures with Isabelle's bouquet. I remember talking to her at the fittings about flowers and colours that would compliment her pale blue wedding dress. I suggested using eucalyptus leaves as they have a lovely soft grey-green colour. I was really pleased to see her florist agreed with me, as there they are!
How we designed Isabelle's cocktail wedding dress
Isabelle came to see me with an off-the-peg dress she had found, which she loved but it wasn't quite right. Isabelle's mum came to the consultation too and she was pleased at the idea Isabelle might end up wearing something a little more special than an off-the-peg dress.
Isabelle knew from the start she wanted some colour . She was weighing up between a pale pink and a pale blue for the cocktail wedding dress. It was easy for us to choose the lace as by a huge coincidence my usual fabric supplier had exactly the same lace available as the inspiration dress! I have sample books with hundreds of lace fabrics (and other fabrics) to choose from.
Although I don't make copies I do encourage brides to share any images or ideas they have found elsewhere. In this case although most of my design work was guided by the inspiration dress. Isabelle wanted enough changes from the original design for me to feel comfortable. She preferred a straight across neckline for the underdress and we reduced the sleeve length during the fitting process to just a cap sleeve.
Making Isabelle's Wedding Dress
Working with lace always presents a few challenges. For this cocktail wedding dress I had to make sure I was lining up the cascading tiers and scallops. I also wanted to ensure a balanced placement of the motifs in the bodice area. I used a concealed zip to ensure a couture level invisible finish for the back fastening.
With thanks to Miranda Virgo who took Isabelle's professional wedding pictures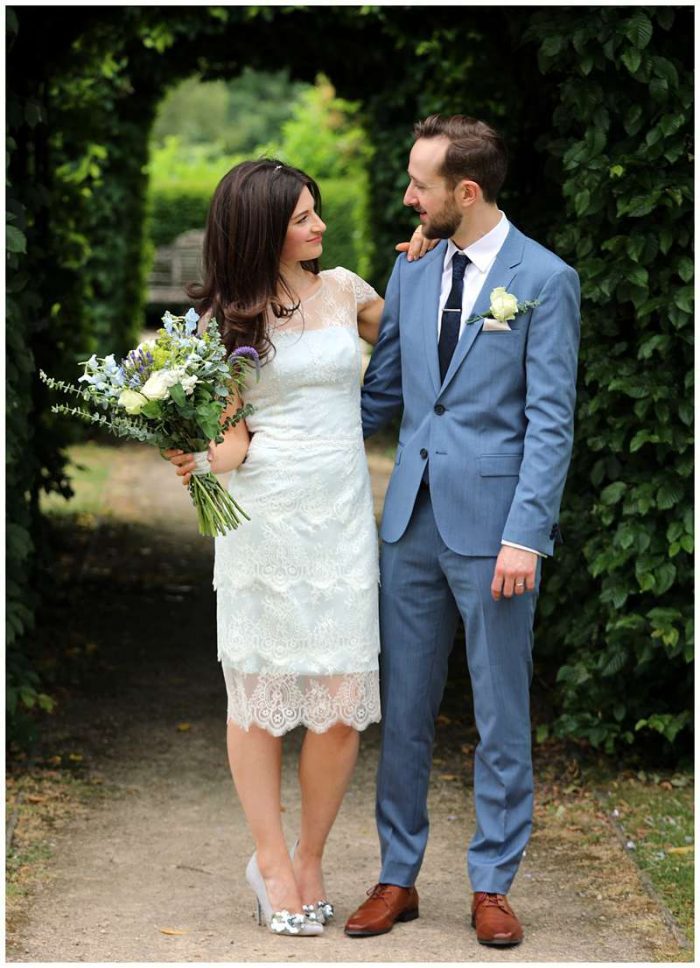 If you'd like to talk about your own bespoke wedding dress ideas, for a cocktail wedding dress or another style just get in touch.
If the colour is what drew you in have a peek at some of my other blue wedding dresses, they are very varied!
Victorian pale blue wedding dress
Teal flamenco inspired wedding dress
Fairytale pale blue tulle and sparkle
or a another chantilly lace dress