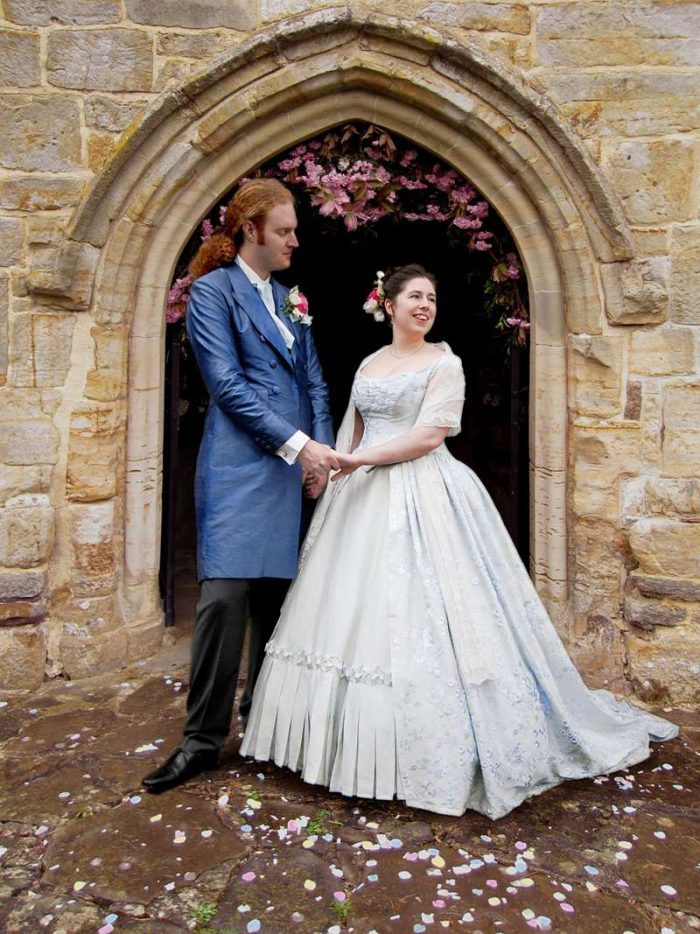 Eleanor commissioned a beautiful Victorian wedding dress in palest blue embroidered silk dupion. I designed Eleanor's dress using a mixture of historical sources as inspiration. Tudor, 18th century and Victorian corsetry came together to create a dress that flattered her petite but curvy figure.
I made Eleanor's dress with a fitted and boned bodice and a wide off the shoulder neckline. I sewed the skirt to the bodice in hundreds of cartridge pleats (see below for detail pics). Eleanor wore the dress over a hoop to make the skirt a full bell shape. We designed it with a divided front which reveals the plain silk of the underskirt, edged with a wide box-pleated frill.
The wide off the shoulder neckline showed Eleanor's beautiful shoulders to best advantage. And dipped towards her bust enough to be flattering but not too revealing. I made sure the full skirt further emphasised her tiny waist. A proper period corset (stays) nipped in Eleanor's waist which gave her the shape she wanted for the Victorian wedding dress style.
Dressmaker's holiday
When I asked Eleanor how she would like the back of her dress to close, the usual options being zip, lace up or buttons, she really didn't want any of them. I knew I'd be there on the wedding day, so we decided to sew Eleanor into the bodice for a perfect, seamless finish. This is not an easy job to do, but it meant there was nothing to spoil the line of the bodice at the back. At the end of the day we gave the poor groom a quick-unpick and instructions on how to get his new wife out of her dress on the wedding night!
Skirts with an open front, like this, were very fashionable in the 18th century. Rococo design also inspired the wide, box pleated frill on her petticoat. Victorian wedding dresses were often influenced by fashion from earlier eras just as we are today.
Official Wedding pictures by Sebastian Lomas
Underpinnings for a Victorian Wedding Dress
To create its distinctive shape I supported Eleanor's dress with lots of period underpinnings. These comprised a properly boned corset (stays) and a hoop skirt (crinoline). The 'bum roll' is the large pad you can see on the right above. The net bustle supported the skirt shape and he train. There were also many layers of netting integral to the main dress.
Making Eleanor's Victorian Wedding Dress
These fitting pictures show the skirt partly made with only half pleated on to the bodice. We used a technique called 'cartridge pleating' which was popular in Tudor fashion.
Dying the embroidered silk
I hand dyed Eleanor's fabric to order as we just couldn't find what she wanted in the right colour.
Historical Inspiration and Designs
Eleanor's dress was not an historically accurate representation of any particular period in history. But we intended it to look 'historical' in the sense that it did not conform to the common bridal trends of 2010. It had many design elements that obviously referenced other periods.
Details from history
I pleated the skirt into the bodice in 'cartridge pleats' from the sides round to the back. This is an Elizabethan technique, although cartridge pleating can be found used in other fashion periods too. Fashions of the past have been inspiring people's design choices all throughout history, not just in modern times. Real Victorian women often wore dresses inspired by Elizabethan and 18th century design. From the sides round to the front I pleated the skirt in softer, large pleats. Just like the skirt on the left in the picture below.
The skirt hooked up for dancing in a 'polonaise stye' because this was a fashionable style in the 18th century (above centre and below right).
These real period garments show elements that were inspiration for Eleanor's Victorian wedding dress.
We took inspiration from Elizabethan, 18th century and Victorian fashions. I loved creating a period combination for a unique dress that flattered Eleanor's figure and style perfectly. The basic corset and wide neckline are early Victorian shapes (1830's). We decided to cut the bodice with panels that taper from shoulder to pointed front waist. The longer bodice line (the seam is just below Eleanor's waistline, not on it) comes from a later Victorian period. The Victorian design image (right above) was our inspiration.
Bespoke Design Development for an Historical Wedding Dress
If you'd like to start the journey of making your own period inspired wedding dress book a consultation today!