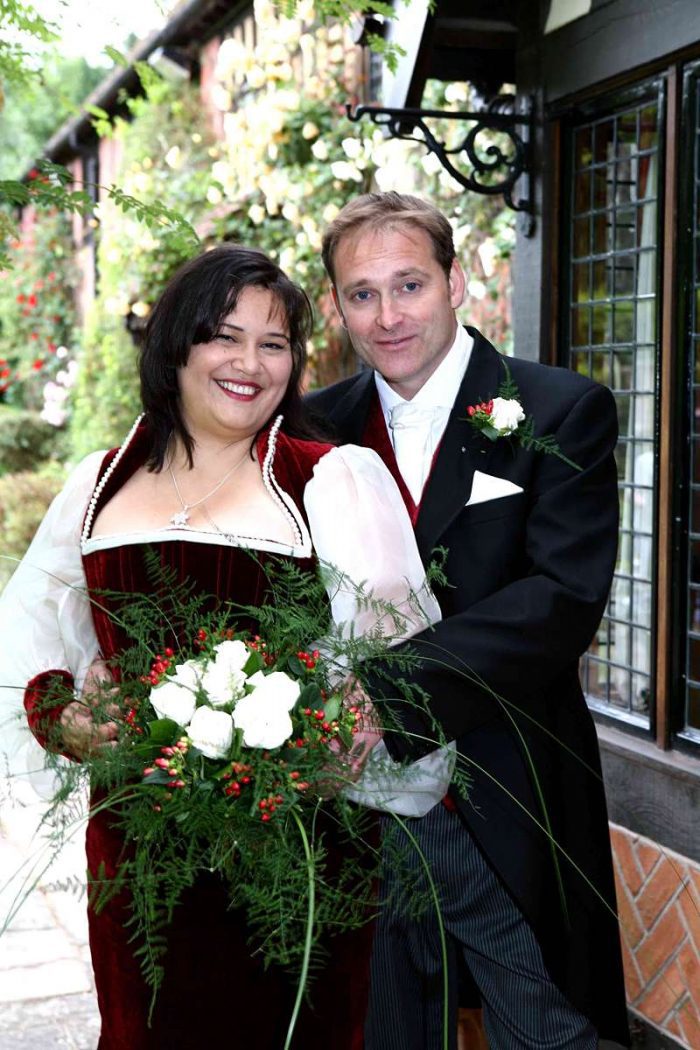 Tracey wanted a Tudor inspired wedding dress with a modern twist for her wedding at the Tudor period hotel, Langshott Manor. I love designing alternative wedding dresses so this was a lovely project.
The two piece ensemble made in deep red silk velvet has a firmly boned bodice cut in a 'Tudor' style with a 'flat front'. I designed a wide curving neckline trimmed with ivory ribbon and ivory freshwater pearls, with a slightly turned back collar at the sides and back of the neck. Tracey wanted the very full balloon sleeves made from ivory silk organza. I finished the sleeves with velvet cuffs closing with pearl buttons and loops to make sure the sleeves looked liked they belonged to the rest of the design.
As an alternative to traditional Tudor skirt (which would have been very heavy for the summer wedding) I designed this flirty 1950's style fit and flare pencil skirt. Tracey wanted her skirt fitted to the knee then flaring to mid-calf supported by ivory netting.
Although Tracey was a larger dress size, the Tudor wedding dress design we chose made her look at least three sizes smaller. The flat fronted bodice supported and flattered her bust while the skirt hugged her curves. So the style shows off all her best points!
Thank you letter
Tracey wrote: Just a quick note to say that Peter and I returned from our honeymoon a couple of weeks ago after a very lovely wedding ceremony at Langshott Manor. As promised, I attach a few photographs, with particular emphasis on the gorgeous dress you made me. It drew so many appreciative comments from friends and family. I would like to say again how very much I enjoyed the process of designing a dress with you. I loved everything from choosing a fabric to discussing design and getting fitted. It was a joy to watch it all come together.
Kind regards, Tracey

Detail of the bodice: I finished bodice neckline with ivory ribbon and real freshwater pearl embellishment. You can also see the top-stitched boning channels on the velvet of the Tudor wedding dress. I can make boned bodices and corsets with boning channels a feature or hidden for a 'smooth' finish.
Designing the Tudor wedding dress
Original Design Sketches, I showed Tracey several different fastening options for her bodice at the design stage; buttons, classic criss-cross lace up and lacing that closed the bodice with out a gap giving a 'v' effect.
Tracey decided the cut away back option with lace up closure was ideal as the wedding was planned for June. Although her Tudor wedding dress was velvet, being silk it was breathable. And with the cut-away back and blousey balloon sleeves she would be comfortable even on a hot day.
Making Tracey's Alternative Wedding Dress
After I take your measurements I draft a flat paper pattern for your dress. I then cut the pattern out in a cheap fabric (usually calico) and sew it together for a fitting. Then I can pin any adjustments needed. I copy them over to the paper pattern ready to be used on the real fabric. The toile stage saves expensive mistakes with your real materials. We check the fit and style are perfect in time for a complete change of mind if need be!
If you have ideas for a Tudor inspired wedding dress please feel free to get in touch
For another spectacular corseted dress for a plus size bride see Issey's wedding dress here.