Whether it's a fifties flirt or a demure tea-length wedding dress, shorter dresses have had a real come-back recently. It makes a change from always dealing with full length and trains! Here is a selection of dresses I have made where the bride has opted to show off her pretty ankles – or more!
Examples of tea length and shorter wedding dresses from my archive
1950's Wedding Dress for Aine: Aine commissioned a 1950s style wedding dress made up in white taffeta. The flared, knee length skirt has soft white tulle peeking out below.

Osyter satin Wedding Dress and Jacket for Angela. Wedding dress with knee length pencil skirt with kick pleats in oyster silk duchess satin and chantilly lace.
Photography by www.christellephoto.com
Tea length wedding dress for Clare. Clare commissioned a flamboyant 1950's style dress made in burnt orange satin and ivory chiffon. Beaded lace and sequin chiffon were perfect for her Florida wedding.
Official wedding photographs by www.gingermidgett.com
Photoshoot: City Burlesque Wedding. I designed a tea length wedding dress in ivory duchess silk satin. It had a fit and flare skirt that was graduated to show off the purple and teal petticoats.
Photography by Jessica Partridge
Autumn colour Wedding Dress for Rebecca. I made a beautiful 1950's style short wedding dress with delicate cream lace over Autumnal golden-orange silk. The skirt is a tea length full circle over many layers of ivory netting, each edged with orange satin ribbon.
Photography by Gregg Brown, http://www.greggbrownweddings.com
Informal Wedding Dress for Lou. Lou commissioned a simple Kimono style dress in soft sand-coloured silk satin to wear for her wedding day. The short dress has a midi/tea-length skirt. I made the design with a high boat-neckline and is loose fitting but pulled in at the waist by a sash.
Blue halter neck wedding Dress and Veil for Angie. Angie wanted something really different for her wedding, as an older bride she wanted to feel extravagant special without wearing a long white dress. Together we created the design for this tea length dress in torn layers or lace and muslin. I also added lace details to her shoes and gloves for the finishing touch.
Red Velvet Wedding Dress for Tracey: I designed a two piece ensemble made in deep red silk velvet. This alternative wedding dress has tea length skirt and a firmly boned bodice cut in a 'Tudor' style with a 'flat front'. The pencil skirt is fitted to the knee then flaring to mid-calf and supported by ivory netting.
Halloween Wedding Dress for Ellie: Gorgeous Ellie was married in Vegas on Halloween. Her short wedding dress was a wonderful mixture of fifties shape, modern styling and subtle Halloween detail.
Brown and pink tea length wedding dress for Suzanne. I designed this short wedding dress in shot taffeta and brown chiffon, suitable and pretty for a mature bride. A matching bolero and swarovski pearl beading finished the ensemble.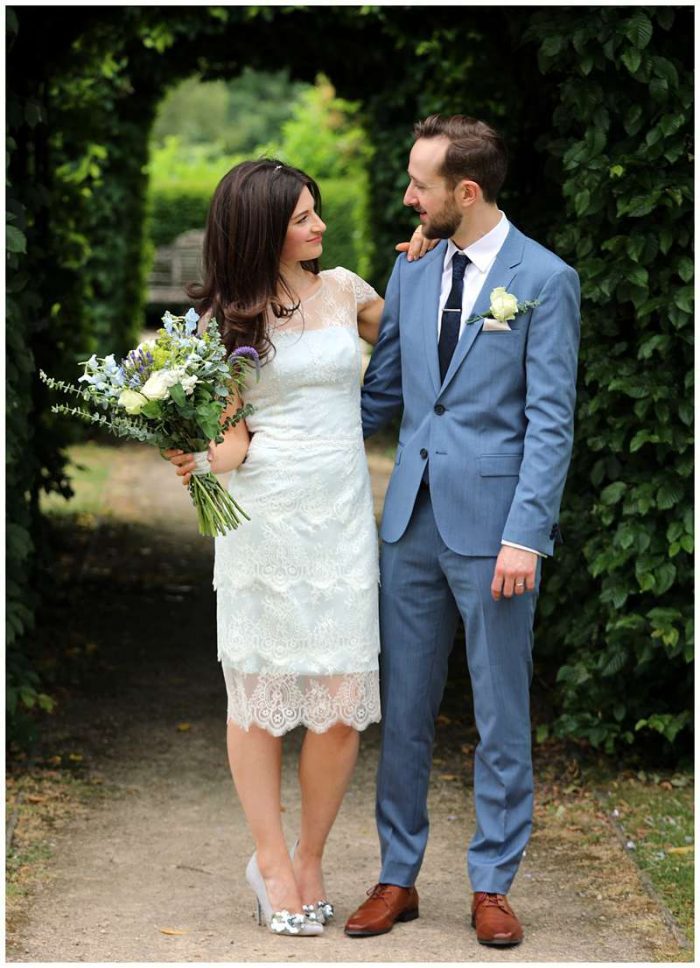 Pale blue cocktail wedding dress for Isabelle. This cute, short wedding dress has a tiered lace skirt and pale blue lining.
Photography by  Miranda Virgo 
Rose pink tea length wedding dress for Clare. Clare was a mature bride who asked me for a sophisticated and pretty wedding dress with a touch of lace. The tea length skirt is straight in front with flirty flared panels behind.
To talk about your ideas for a bespoke tea length or short wedding dress just get in touch.